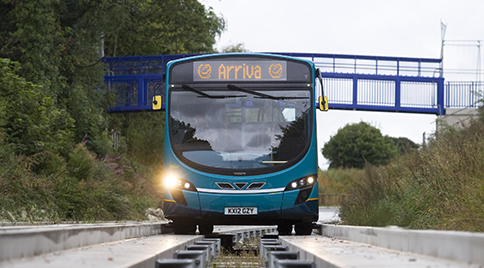 Get moving with the Busway
The Busway is a revolutionary transport link that connects communities in Houghton Regis, Dunstable, Luton and London Luton Airport. Bus operators Arriva, Centrebus and Grant Palmer operate routes, which together will provide core services between Dunstable and Luton up to every seven minutes at peak times.
Journey time on the traffic-free guideway between the two town centres are less than 15 minutes – fast, frequent and reliable!
The Busway is both flexible and quick, making it the best way to travel. It opens up a wealth of opportunities for speedy and hassle free journeys to work, university, college or school, shopping, the theatre or just catching up with friends. A fast, frequent and reliable way to travel both during the day and after dark.
Where does the busway go?
The Busway travels between Luton, Dunstable and Houghton Regis in both directions.
The main part of the Busway network is the specially constructed guideway between Houghton Regis, Dunstable and Luton town centres, with the route continuing on-road to London Luton Airport, stopping near Luton Airport Parkway station.
The Busway provides 6.1 miles of segregated bus-only road, with a concrete track along a 4.8-mile section to take the two small guide wheels fitted at the front of standard buses, so vehicles can be guided along smoothly and hands-free at speeds of up to 50mph.
The Busway service is monitored to ensure that it meets the travel needs of local people.
Routes, fares and timetables
The busway provides a fast, frequent and reliable way to travel, during the day and after dark.
For details of the route please see below:
The multi-operator Hip-Hop ticket, which is accepted on all Arriva and Centrebus services across Luton and Dunstable Zone (Luton, Dunstable and Houghton Regis), is being extended to allow passengers to travel on the Grant Palmer C service using the Busway.
Hip-Hop tickets were introduced in response to demand from residents for a ticket allowing flexible travel with more than one operator.